We're excited to introduce the latest enhancements that come with Sprocket 365 version 5.2. This release is packed with upgrades that promise to make your experience smoother, more efficient and more intuitive than ever before.

Let's dive into the new Web Parts and features: 

Build and

visualise

your business processes in SharePoint

 



In any organisation, processes are the backbone of policies and procedures, pivotal for knowledge sharing. With all the policies in SharePoint, we saw a need for a simpler way to show and share these processes attached to specific documentation. That led us to create the Process Web Part.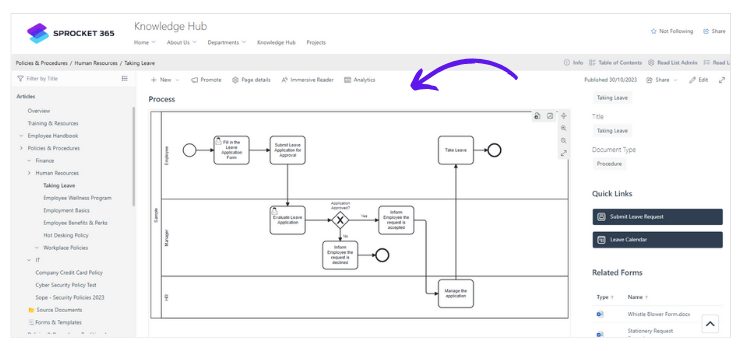 Harness the

p

ower of BPMN
Our Process Web Part is not just any tool: it's fueled by the globally recognised, Business Process Management and Notation (BPMN). BPMN offers a dependable methodology for documenting and defining intricate business processes.
Safe,

s

ecure

and

ac

cessible
For those moments when you need an immediate copy, our "Backup on Demand" feature allows you to download a backup anytime, giving you peace of mind. Additionally, all your data is stored in the reliable BPMN XML format and seamlessly integrates with SharePoint's robust version control. 

Building and

customising

your workflows
With the Process Web Part, creating workflows becomes a breeze: 
Clear guidance: Map out step-by-step instructions, ensuring consistent adherence across your team.
Flexibility in design: Easily customise text, add steps, or rearrange sequences using the intuitive drag-and-drop interface.
Dynamic viewing experience
Rather than a static, potentially difficult-to-decipher image, The Process Web Part provides a dynamic view. SharePoint users can effortlessly zoom in to grasp finer details or zoom out for a holistic overview, making process navigation straightforward and user-friendly for everyone.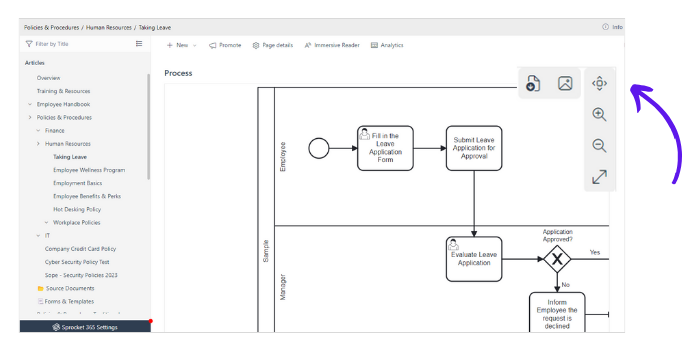 The Process Web Part makes sharing and agreement on business processes within SharePoint more effective than ever. 
Watch a demonstration of the Process Web Part below.
A responsive, seamless experience across devices
We understand the importance of accessibility when it comes to navigating your SharePoint calendar. Our enhanced Calendar Web Part in version 5.2 is all about adaptability and user experience. Whether you're viewing it on a 1/3 or full screen, it adjusts flawlessly to your preferences.  
The visuals have also been given a refreshing upgrade. As you navigate between months, you'll notice the fluid, modern design that remains consistent regardless of your device. For those on the move – this feature is optimised for both mobile and tablet use.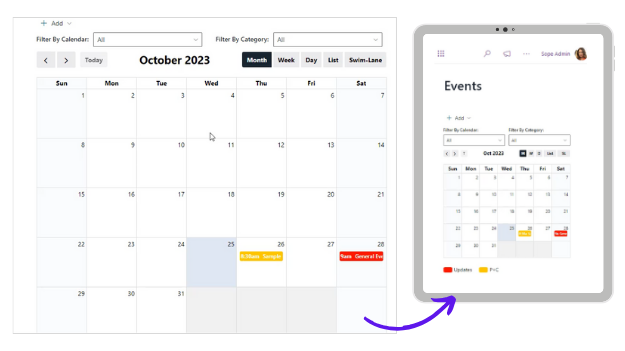 Metadata

t

ransfer with

d

ocument

c

onversion 

 
With the introduction of our document converters in version 5.0, converting Word documents into Pages or PDFs straight from a document library became a game-changer for many of you. 
In version 5.2, we've enhanced our Document Converters. This update ensures that all your metadata remains intact. If you have columns in your document library, such as "Owner" or "Next Review Date", and they match with names in other libraries, they'll transfer seamlessly. After conversion, your Word document will appear in the Pages library with all the appropriate details and metadata.
This feature allows you to display custom fields in the Knowledge Hub properties section and sets the foundation for future workflow integrations. Overall, we're refining the Knowledge Hub and document conversion experience to be even more intuitive and streamlined
Watch a demonstration of the enhancement below.
See what else is new with Sprocket 365
Full release notes available on Sprocket 365 documentation here.
If you require any support or assistance with upgrading, please don't hesitate to reach out to our dedicated Sprocket 365 Support team. We're here to help and provide a smooth and successful upgrade experience: [email protected]