Sprocket 365 for SharePoint
Sprocket 365 is an all-in-one application designed to enhance SharePoint Modern. With Sprocket 365, you gain access to a wide range of unique Web Parts, customisable features, and pre-built tools, allowing you to elevate your digital workplace to new heights. 
With Sprocket 365, you have an additional layer of design flexibility right at your fingertips. It's your chance to bring your vision to life and turn your SharePoint dreams into reality. 
Sprocket 365 is an all-in-one extension designed to enhance SharePoint Modern. With Sprocket 365, you gain access to a wide range of unique Web Parts, customisable features, and pre-built tools, allowing you to elevate your digital workplace in SharePoint to new heights. 
With Sprocket 365, you have an additional layer of design flexibility right at your fingertips. It's your chance to bring your vision to life and turn your SharePoint dreams into reality. 
As you keep reading this post, you'll learn more about the many Web Parts and features that Sprocket 365 offers. 
How do the Web Parts & features work?
We've leveraged Microsoft's patterns and practices approach to extend Microsoft 365 and SharePoint. This ensures that Sprocket remains fully functional as Microsoft SharePoint evolves in the future. 
Sprocket 365 seamlessly integrates with SharePoint, without altering its core functionality. Instead, it provides you with a suite of additional web parts and features, expanding the possibilities of what you can achieve. 
Who is Sprocket 365 best suited for?
It is best suited for Microsoft Power Users—individuals who are familiar with the capabilities of SharePoint and are eager to bridge the gaps, expand functionality, and unlock new customisation. If you are implementing a solution within SharePoint and require an extra layer of features to create more magic, Sprocket 365 is the perfect fit for you.
By leveraging its pre-built and customisable features, you can streamline the process of building an intranet or digital workplace, avoiding the costly and time-consuming job of starting it from scratch. That's right, no custom development or complex coding required – everything is straight out of the box and ready to go with Sprocket 365. 
We offer a dynamic and constantly evolving application designed to meet the changing needs of your digital workplace in SharePoint. 
How much does Sprocket 365 cost?
Sprocket 365 operates on a convenient subscription model, giving you the flexibility to choose between monthly or annual payments. With this cost-effective subscription, one fixed price gives you access to all the features, updates, and support you need to create a thriving digital workplace. No surprises or unexpected expenses along the way. 
To determine the exact cost of your Sprocket 365 subscription, you can easily calculate it on our pricing page. Simply input the number of users in your tenant and the calculator will provide you with the monthly or annual cost. It's worth noting that the pricing is capped at 1,500 users in your tenant, ensuring affordability and scalability. 
How to install Sprocket 365
To get started, we invite you to install a free 30-day trial. Follow the simple steps below to install the trial and experience the benefits of Sprocket 365 firsthand. 
To get started, you can install our free 30-day trial of Sprocket 365 in SharePoint. This trial allows you to experience the full benefits and features of Sprocket 365 firsthand. To begin, follow these simple steps: 
Make sure you have tenant-level permissions within your Microsoft 365 environment.

 

Grant approval for the Graph API permission request when prompted.

 

Download the following sppkg files: Sprocket Library and Sprocket 365 (as seen below)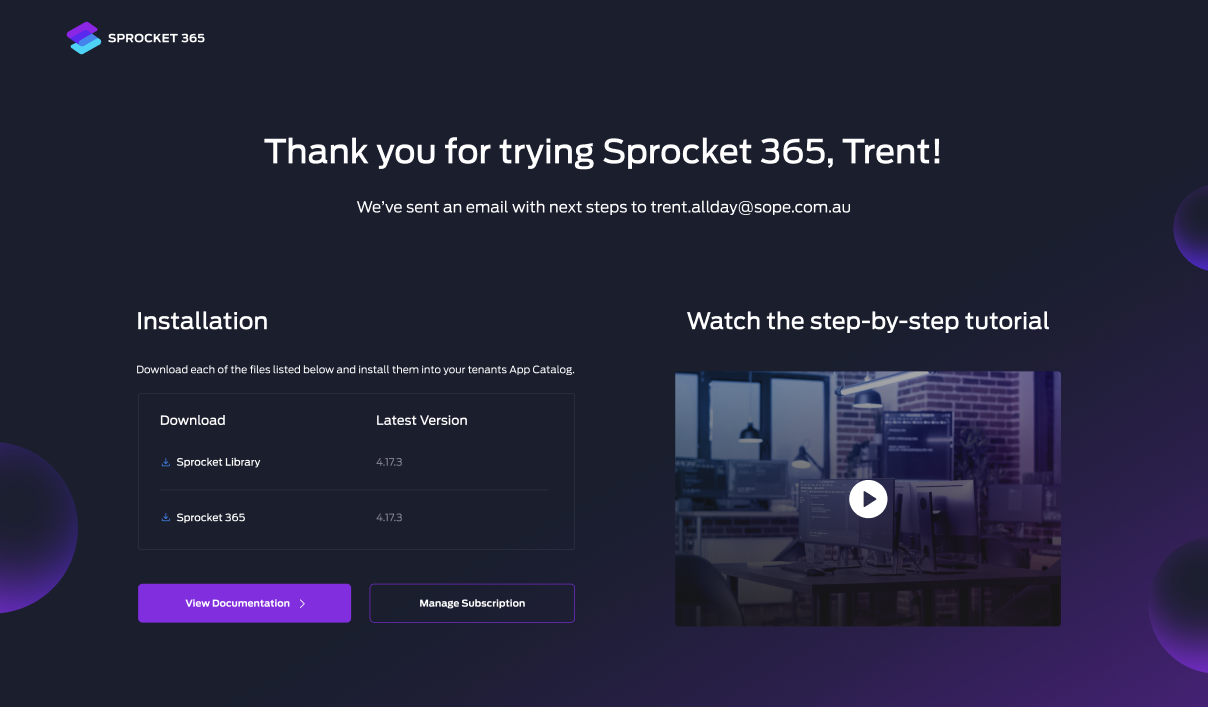 nce the files are added to your Microsoft App Catalogue, a pop-up window titled "Enable app" will appear. Click on "Enable App" to enable the Sprocket 365 app. In the pop-up window, under "App availability" select the option to enable the app for all sites. 
Congratulations! You have successfully installed Sprocket 365*. When editing a SharePoint page, you will now see the Sprocket web parts available. Additionally, you can access the Sprocket Settings icon located in the bottom left corner of every page. Explore the features and enjoy the benefits of Sprocket 365 in enhancing your SharePoint experience. 
*Please note that installing Sprocket 365 requires tenant-level permissions within Microsoft 365. These permissions are necessary to ensure seamless integration and to provide the full range of features and functionalities offered by Sprocket 365. 
Our Web Part library is built on three essential pillars: Productivity, Engagement, and User Experience. By installing Sprocket 365, you gain access to our unique Web Parts, all encompassed within the same comprehensive solution. 
To access and add Sprocket 365 Web Parts to your page, follow these simple steps: 
Ensure that the page is in edit mode. If it's not already, click on the "Edit" button located at the top right corner of the page.

 

Once in edit mode, hover your mouse above or below an existing web part on the page. You will see a line with a circled "

+

" symbol.

 

Click on the "

+

" symbol, and a list of web parts will appear for you to choose from.

 

To quickly find the specific Sprocket 365 Web Part you need, start typing in the Search box or scroll to the

Advanced

Web Parts. As you navigate through this enchanted list, keep an eye out for the vibrant purple hue that sets the Sprocket 365 Web Parts apart.

 

Locate the desired Sprocket 365 Web Part in the list and click on it to add it to your page.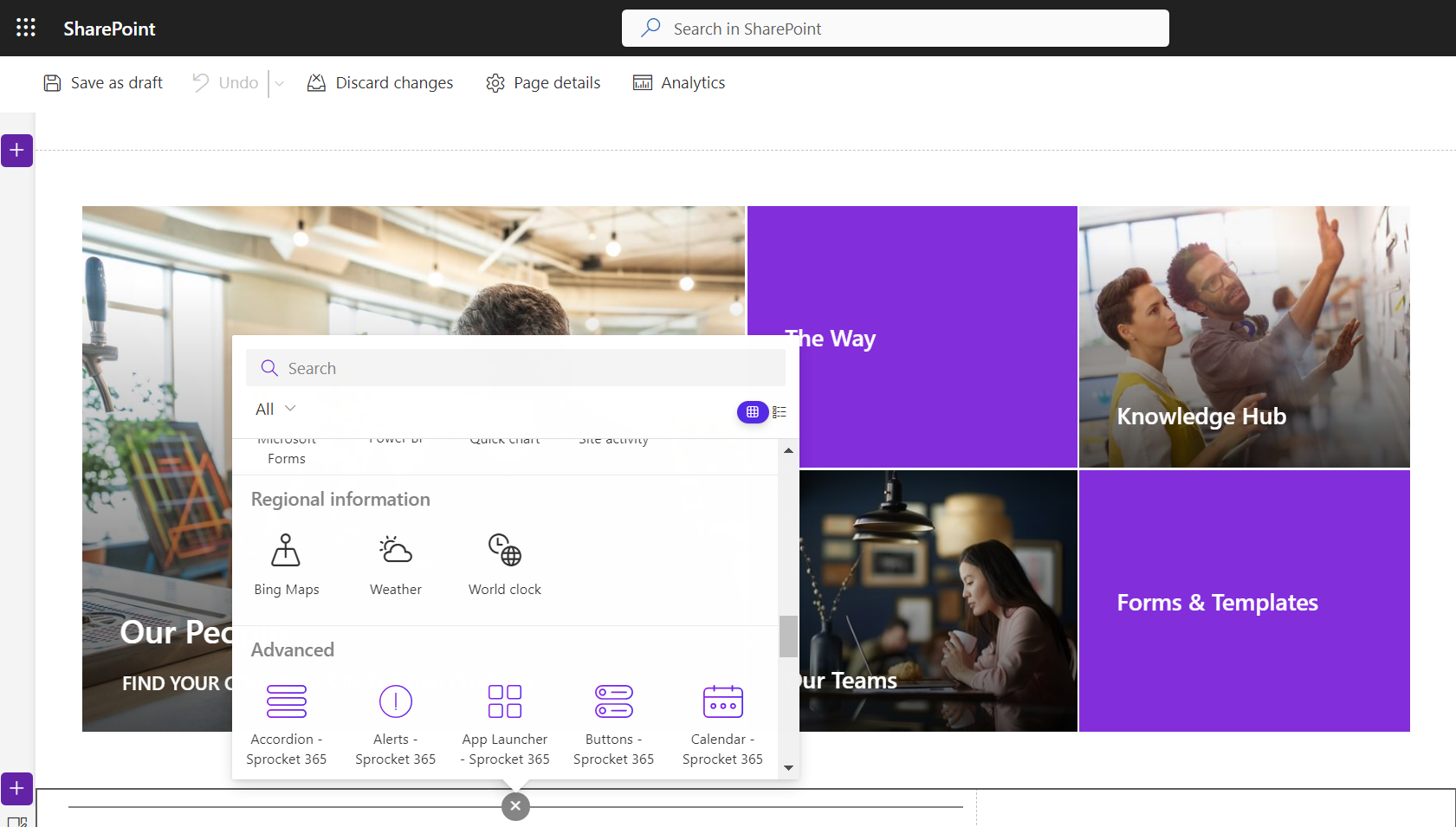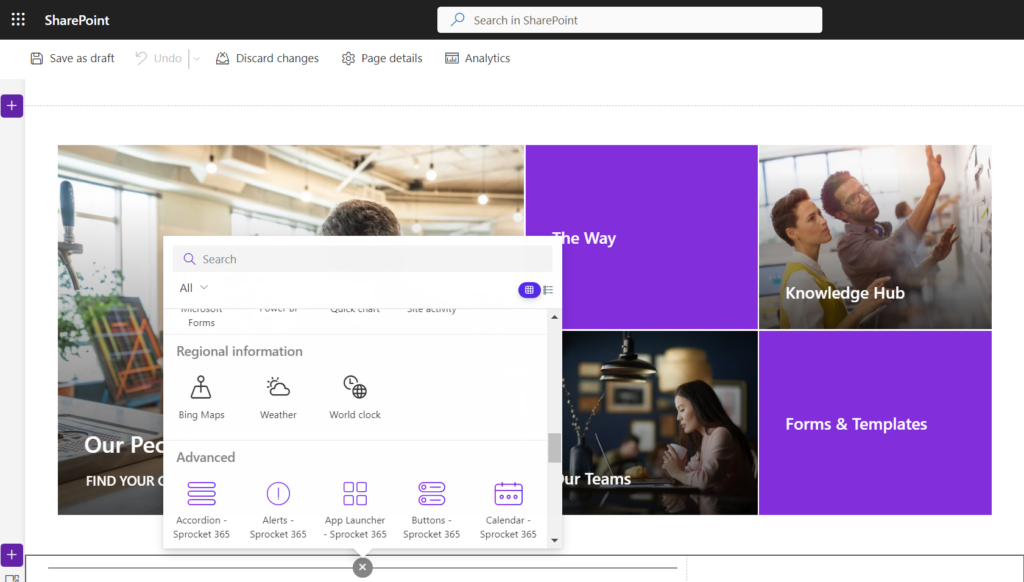 Key Features of Sprocket 365
The Custom Header designed to enhance and streamline the navigation within your SharePoint environment, going above the out-of-the-box functionality. With Custom Header, we provide you with a single, consistent navigation bar that spans across all pages, ensuring a seamless and intuitive user experience. 
Traditional SharePoint navigation often involves juggling between hub and site navigation, which can be overwhelming and time-consuming. By implementing Custom Header, you'll enjoy the benefits of a unified navigation system that eliminates the confusion caused by multiple navigation bars.  
Whether you're navigating between site collections or exploring different sites within a hub, the consistent navigation bar provides a clear and intuitive path, saving you valuable time and effort. 
Configuring and enabling Custom Header is directly from the Sprocket 365 settings panel. We've designed it to seamlessly integrate with SharePoint, ensuring you can enhance your environment without compromising any standard functionality.  


Here's a quick overview of the key configuration options available to you: 
Header Logo:

Set a separate header logo alongside the SharePoint site logo, allowing you to showcase your brand more effectively.

 

Site Title Display:

Toggle the site title display to suit your needs, whether it's enabling it for Team Sites or hiding it for communication sites.

 

Header Height:

Choose from our standard, compact or custom options, matching the height of the standard SharePoint header. Alternatively, define your own custom height for a sleek and minimalistic look.

 

Mega Menu:

 
Background & Text Colors:

Customise the header's background and text colors to align with your organisation's branding, and even upload a background image for added visual impact.

 

Navigation Source:

Select the navigation source, with the hub's navigation being the most common choice. By using the hub's navigation, users enjoy a consistent navigation experience as they navigate between connected sites.

 

Inheritance and Site-Specific Settings

: Benefit from the convenience of inheritance, where all sites within the hub inherit the header settings from the hub's root site. However, you can also choose to remove the inheritance and customise the header settings for individual sites, allowing for unique configurations when necessary.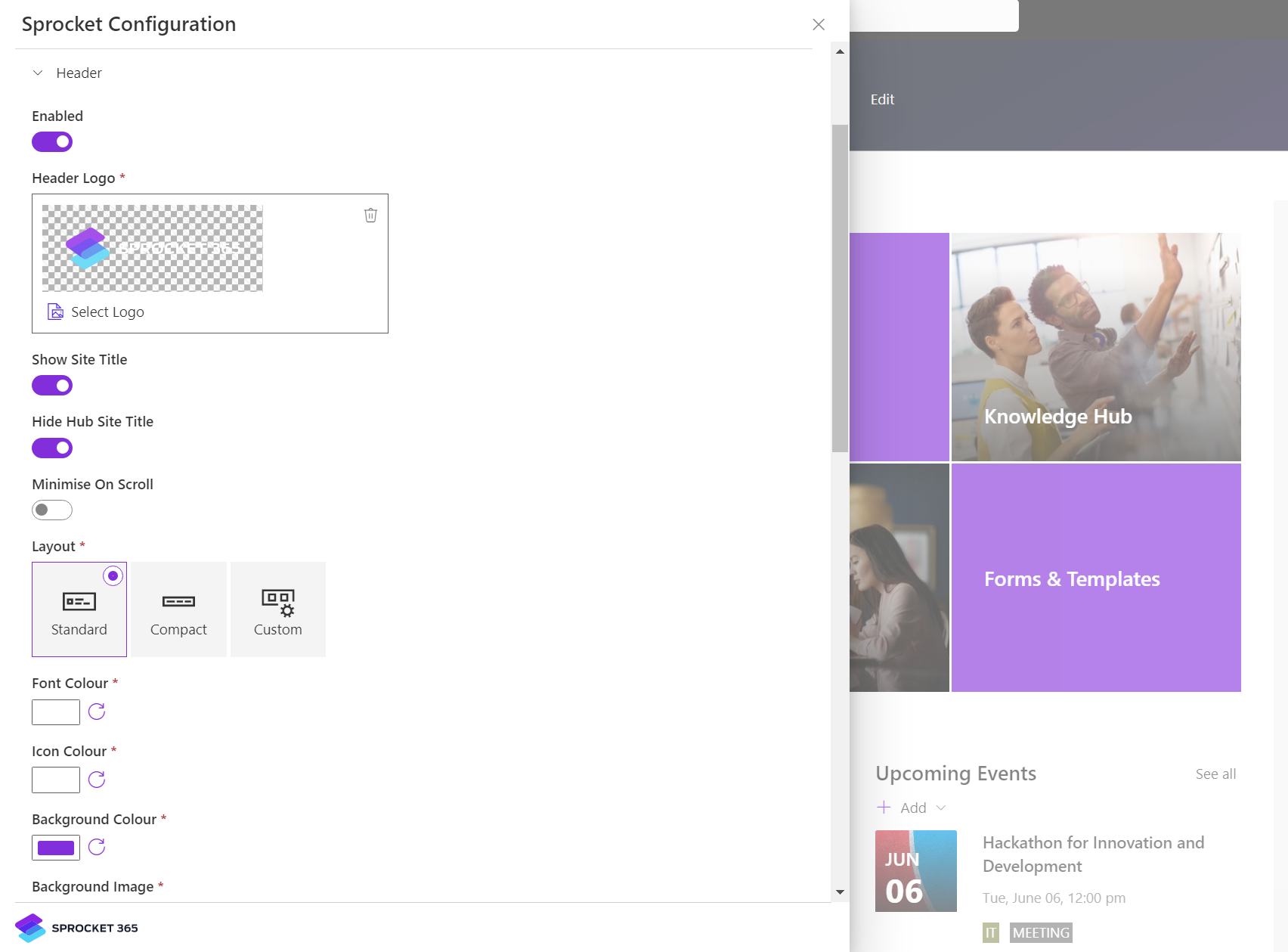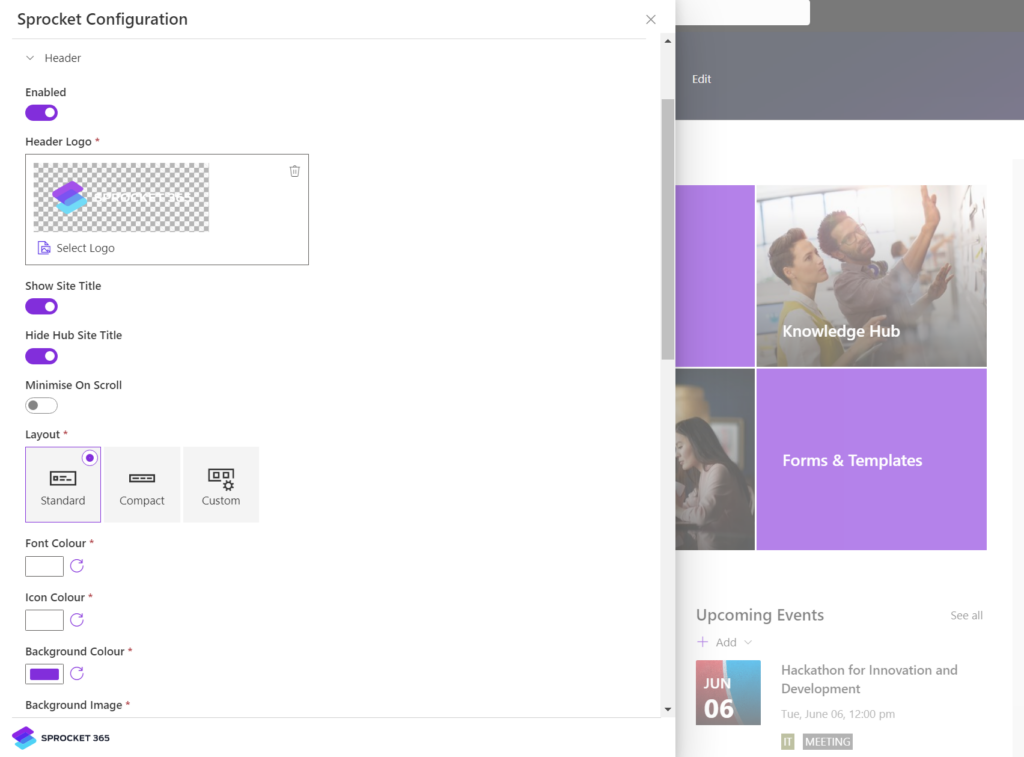 The Knowledge Hub stands as one of Sprocket's most beloved and impactful features! In just a matter of minutes, you can effortlessly create a fully functional wiki within your SharePoint documents. This exceptional functionality allows you to convert existing documents, including PDFs, into an engaging interface seamlessly integrated into your communication site.  
Let's delve deeper into the remarkable capabilities and components of the Knowledge Hub.  


How the Knowledge Hub works 

The Knowledge Hub serves as a centralised repository, ensuring your intranet becomes the ultimate single source of truth. It enables you to outline policies, document procedures, onboard new team members and share knowledge while maintaining strict control over information access.  
Keep track of compliance effortlessly, guaranteeing successful onboarding and keeping your workforce up to date with policy and procedural updates. The intuitive navigation bar, comprehensive table of contents, easy Word document conversion, and recorded view data enhance the user experience.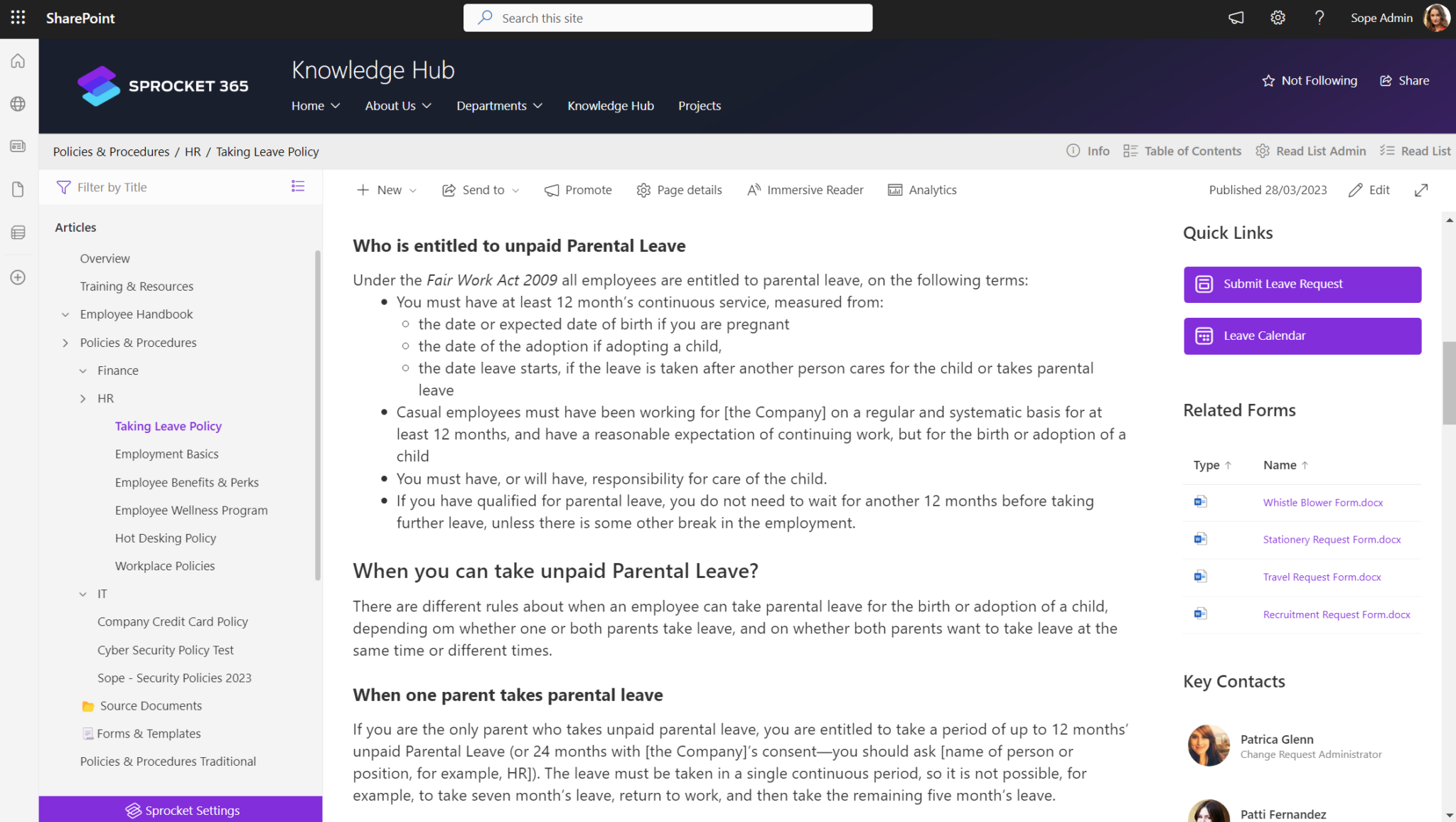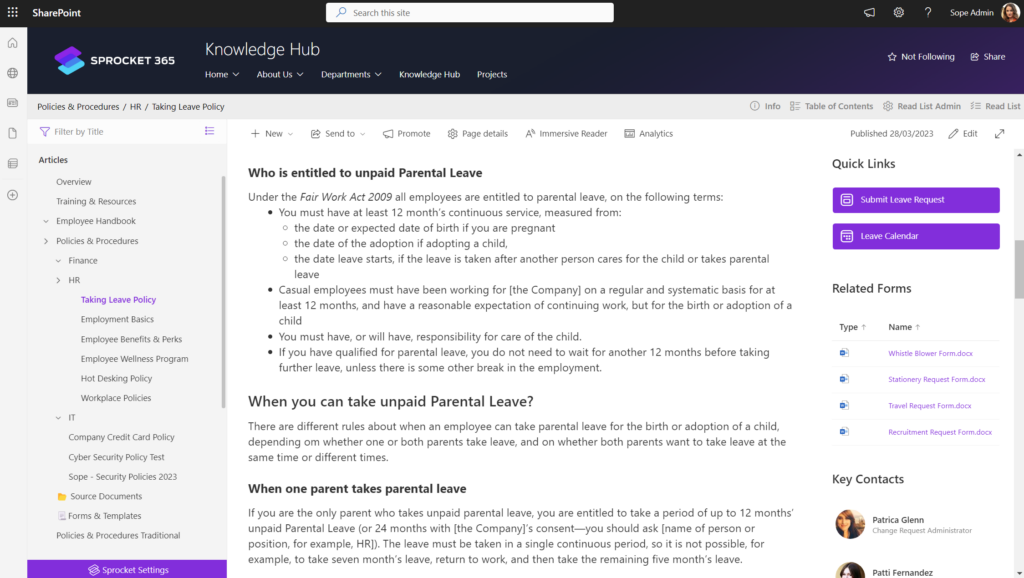 Here are the stand-out features of Knowledge Hub our users love and use the most: 
 
Structured wiki
The Knowledge Hub in Sprocket 365 empowers you to effortlessly organise your business content in SharePoint. With an intuitive interface and powerful features, you can easily create a structured wiki that allows users to navigate through information with ease. One of the standout features is the tree navigation, which enables you to drag and drop files and folders, making it simple to arrange and categorise your content.  
 
Reading lists
Keep your staff members informed and up to date with the Reading Lists feature. Sprocket 365 allows you to assign essential company information, such as policies, guidelines, or important updates, to specific individuals or teams using reading lists in SharePoint. These reading lists act as checklists, ensuring that everyone reviews and acknowledges the assigned content.  
 
Seamlessly publish existing content
Sprocket 365 simplifies the process of publishing existing content onto your Knowledge Hub. Whether you have valuable information stored in Word documents or PDFs, you can effortlessly transfer them to your Knowledge Base. Simply upload the documents, and Sprocket 365 will convert them into web-friendly formats, maintaining the formatting and structure of the original content. The best part is that any updates made to the source documents are automatically reflected in your Knowledge Base, ensuring that your information is always up to date.  
Elevate your user experience in SharePoint with Advantage Design Tools, a powerful feature offered by Sprocket 365. With advantage design tools, you have the ability to add a more personalised design touch to your SharePoint environment, enhancing its visual appeal and usability. 
One of the standout features of advantage design tools is the Custom Favicon option. Now, you can replace the default SharePoint icon with your own custom favicon, reflecting your brand identity or adding a unique touch to your site. This small but impactful change adds a level of professionalism and cohesiveness to your SharePoint pages. 
Advantage design tools includes the Scroll to Top button functionality. This handy feature allows users to easily navigate back to the top of a page with just a single click. It improves user experience by saving time and effort, especially when dealing with lengthy pages or documents. With the Scroll to Top button, users can effortlessly access important information or continue browsing without the hassle of scrolling manually.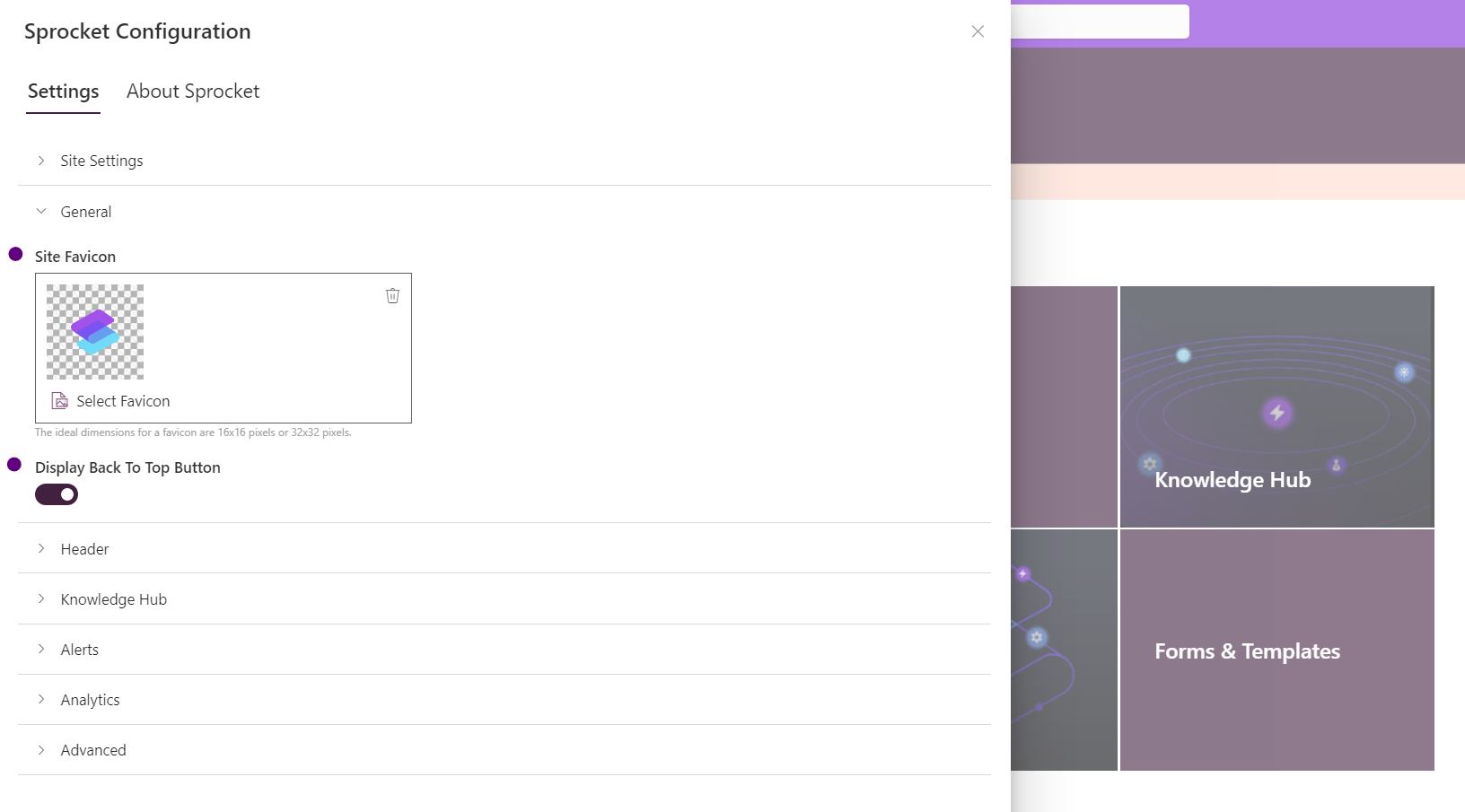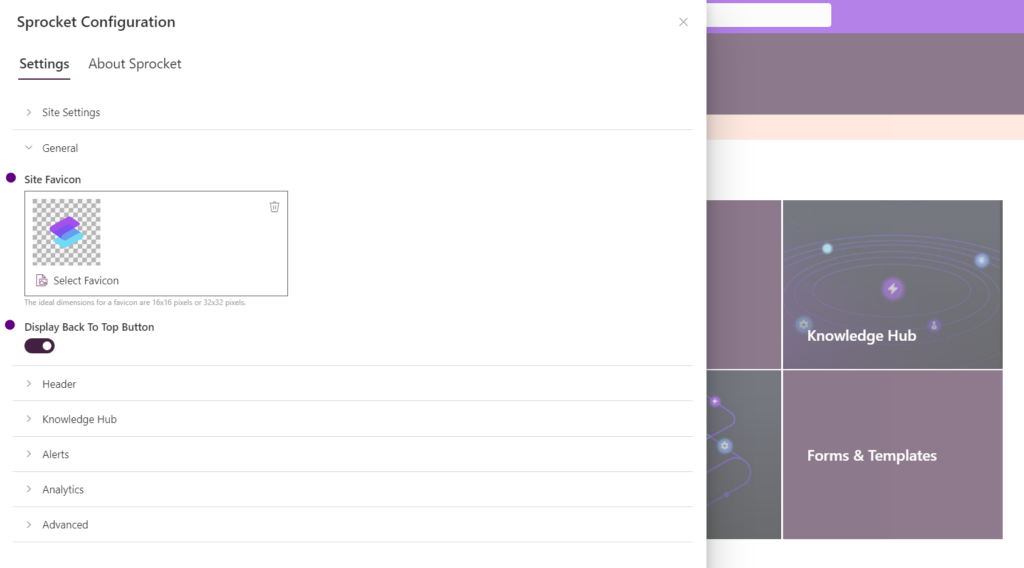 Alerts
Take advantage of our alerts features, which allow administrators to easily place important messages at the top of every page on your site or hub, ensuring that your users receive crucial information, no matter where they interact with SharePoint. 
Configuring these alerts is simple. All the content is conveniently stored in a SharePoint list, making it easy to manage and update. With Sprocket Alerts, administrators have the flexibility to set a publish and expiry date for each alert, ensuring timely delivery of information. Plus, you can choose whether the alert is dismissible by users. 
Dismissed alerts are remembered, so your users won't see the same alert repeatedly in the future. This feature helps streamline communication and ensures that your users are always informed with the latest updates. 
Analytics
We understand the importance of tracking the usage and effectiveness of your digital workplaces. While SharePoint offers basic analytics, we believe our customers deserve more insightful data. That's why Sprocket 365 allows users to track site usage using two powerful analytics platforms: Google Analytics and Azure Insights. 
With the integration of Google Analytics and Azure Insights, you can gain valuable insights into how your SharePoint sites are being utilised. These analytics platforms provide in-depth data and metrics to ensure that the effort you invest in building your digital workplace is delivering the desired value. 
Track, measure, and gain valuable insights with Sprocket 365. Ensure that your digital workplace efforts are driving real value and maximising the potential of your SharePoint sites.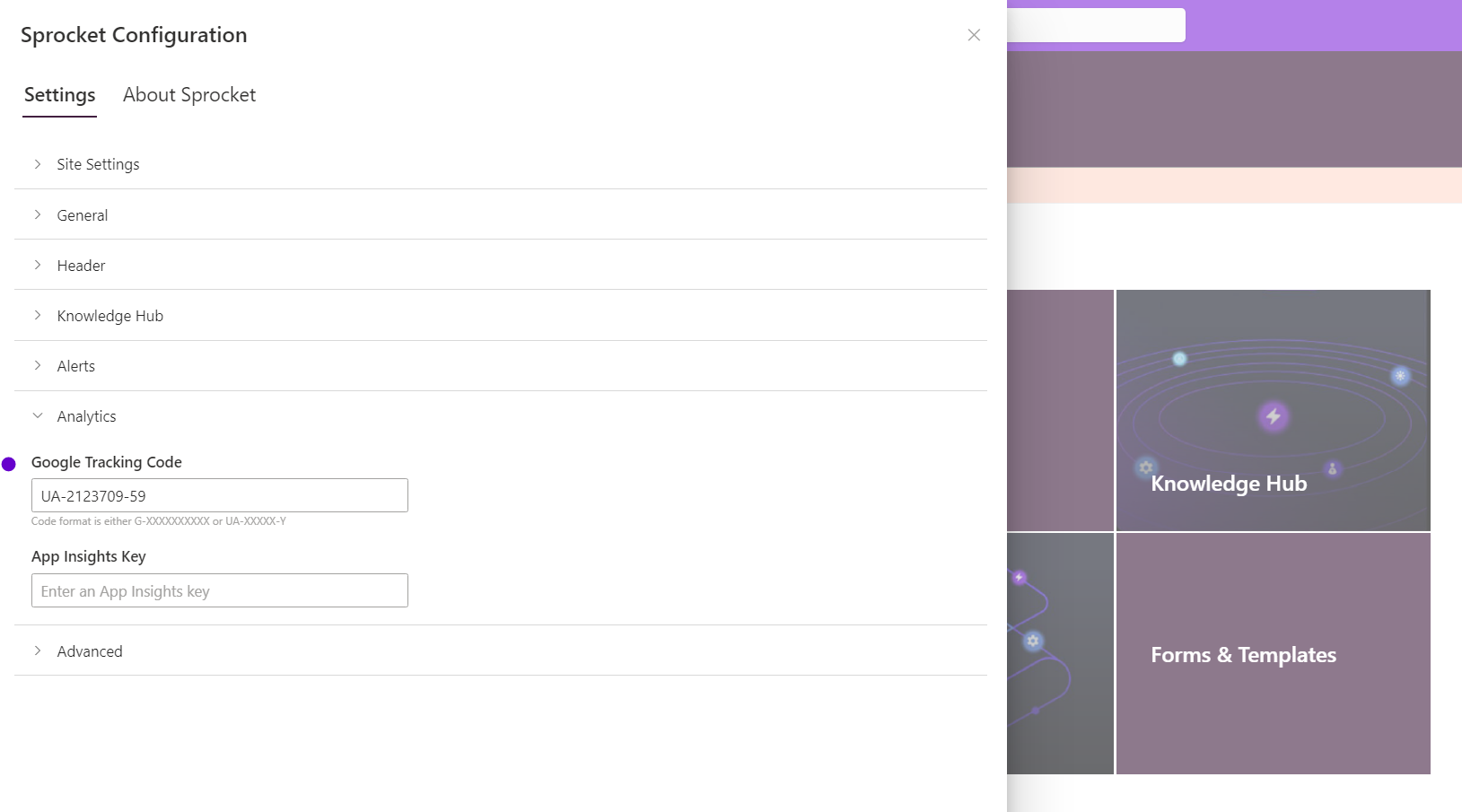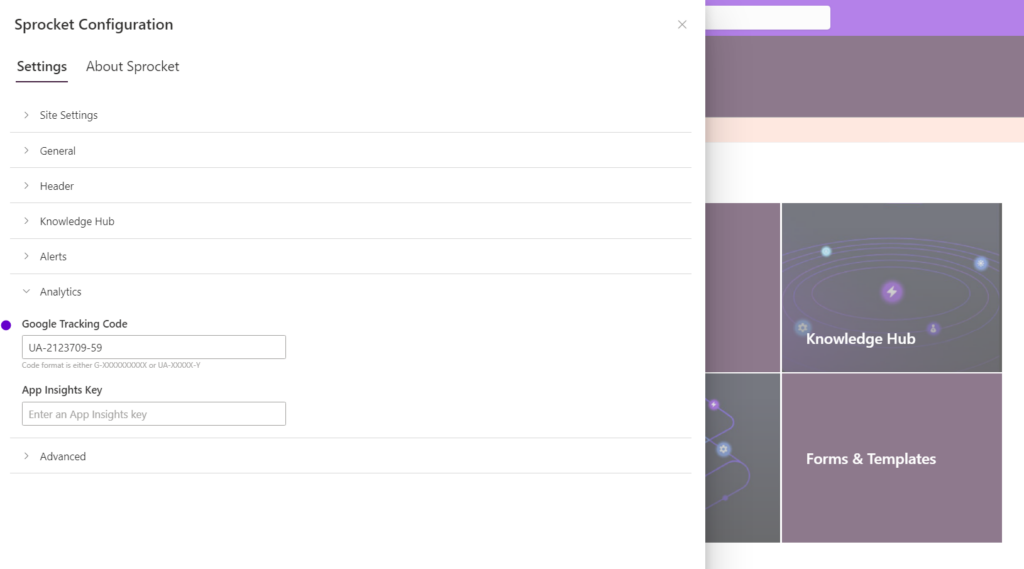 Custom
CSS
and JavaScript
Overides
Experience the true freedom of customising SharePoint to align perfectly with your brand identity and vision. With Sprocket 365's 'Custom Scripts' feature, you can effortlessly make small customisations using CSS or JavaScript (JS), unleashing a world of possibilities for your SharePoint environment. 
This game-changing feature empowers administrators to directly enter CSS or JavaScript. The beauty of it is that these scripts can be targeted to any element within the DOM, giving admins unprecedented control over the visual and functional aspects of their SharePoint site. 
 
This eliminates the need for complex workarounds or external development resources, allowing you to make quick and targeted adjustments with ease.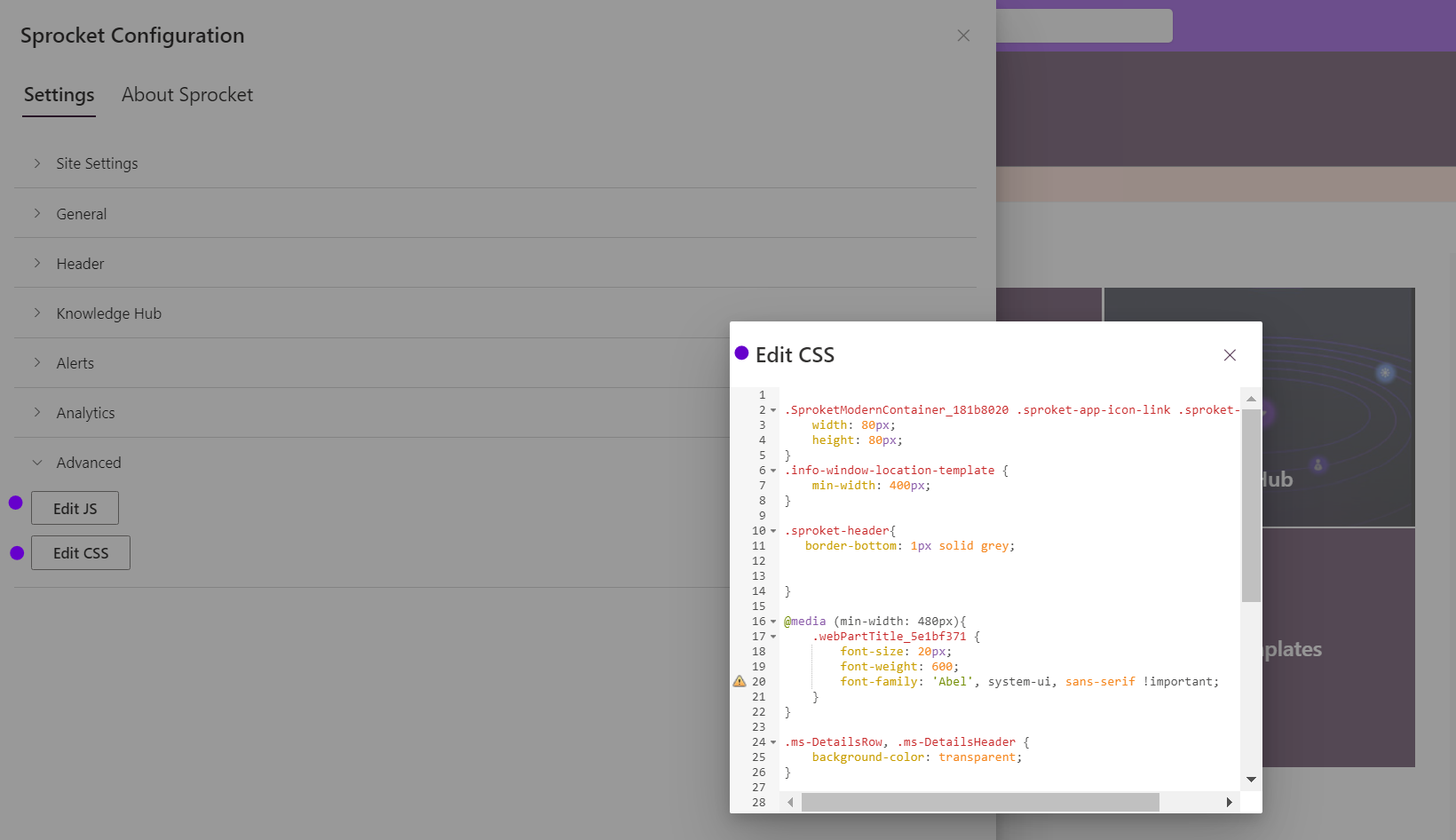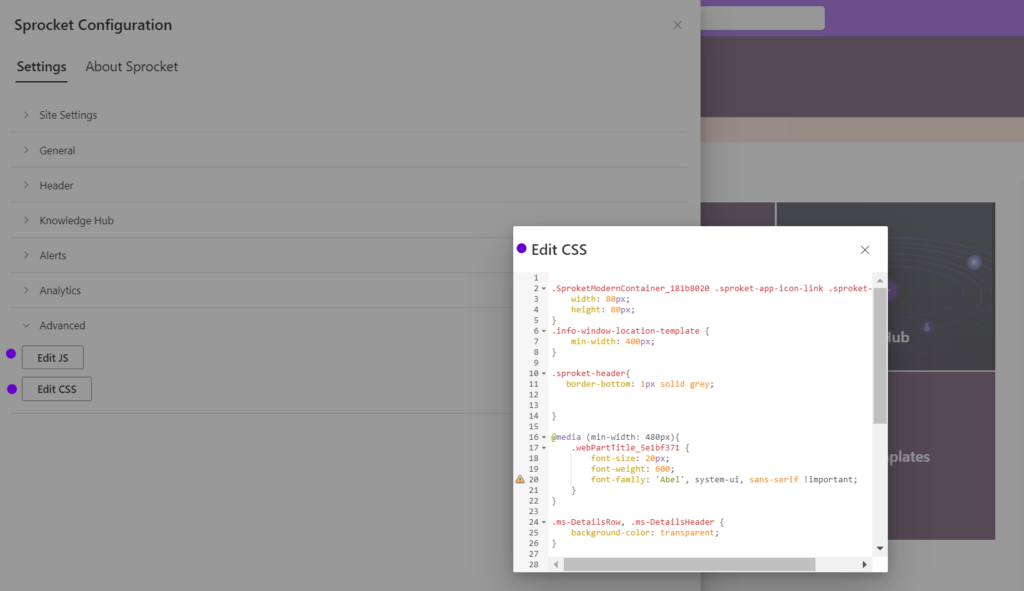 Does SharePoint work with other solutions installed in SharePoint
Sprocket 365 sits on top of SharePoint, acting as a complementary layer that extends its capabilities. This means you can continue using other web parts and Microsoft 365 applications alongside Sprocket 365 without any disruptions or the need to make changes. 

SharePoint is designed to be a highly versatile platform, capable of integrating seamlessly with various web parts and solutions. When it comes to using SharePoint alongside other web parts or solutions, Sprocket 365 provides a powerful extension that enhances the functionality of SharePoint without interfering with your existing setup or the SharePoint interface.  
Get started with Sprocket 365 today
If you're eager to unleash the full potential of SharePoint and build better digital workplaces on Microsoft 365, now is the perfect time to get started with Sprocket 365. Begin your journey by installing our free 30-day trial, allowing you to experience the power of our plug-in and explore the extensive range of Web Parts and features it offers. 
During your trial period, you can test out Sprocket 365 and evaluate how it aligns with your specific needs and requirements. Before your 30-day trial comes to an end, we'll notify you and guide you through the process of setting up a monthly or annual subscription. 
 
We look forward to helping you build better digital workplaces on Microsoft 365. 
Further questions? Don't hesitate to reach out to the Sprocket 365 team at [email protected]