We take data security very seriously and understand the
importance of protecting your SharePoint and Microsoft 365 data
At Sprocket 365, security is our top priority. As a product that sits on top of SharePoint, we leverage the advanced security features of Microsoft's trusted platform to ensure that your data is always protected. Our comprehensive security measures are designed to safeguard your information from unauthorised access, data breaches and other potential threats.

We are committed to implementing industry-leading security practices, regularly auditing our applications, systems and networks to maintain the highest level of protection for your data.
Sprocket 365 consists of a client layer, which is implemented by two Microsoft SharePoint Framework Apps. The client layer reads data from various external systems, such as Microsoft Graph or SharePoint Search and displays this data in web parts within a SharePoint site.
Sprocket 365 provides a number of web parts and customisers for SharePoint Modern. This article details the technical architecture of Sprocket and the services in which is depends on.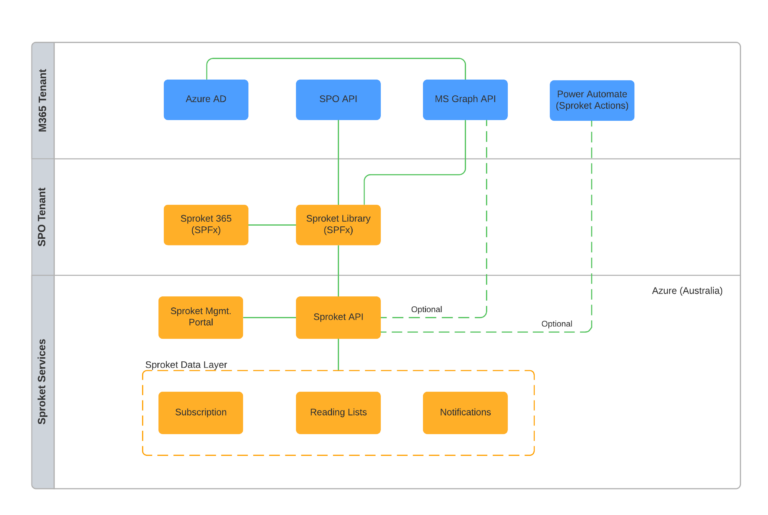 Sprocket 365 is built with Microsoft SharePoint Framework (SPFx), which is the recommended way and technology issued by Microsoft for implementing custom solutions for the Microsoft 365 platform.
The solution consists of two SPFx app packages Sproket 365 and Sproket Library, which have to be deployed into the customer's SharePoint Online App Catalog. Once deployed to the App Catalog, the app packages can be installed as Apps on the desired SharePoint sites. Refer to our installation page for more information.
​When deploying the Sprocket 365, a set of permission requests are created that need to approved in the "API Management" section in the SharePoint Admin Center.
Be aware the you might not need all permissions, if you don't need the functionality that requires them. Also note, that everything is executed under the context of the logged in user. That means users will only be able to load data, they are have permission to.
The below list are the Microsoft Graph permissions that are needed for all of Sproket's web parts to function correctly. For more information on Microsoft Graph and what these permissions request mean please refer to Microsoft Graph permissions reference article.
Further questions about security?
If you have any concerns about the security of our product, or if you think you may have discovered a security vulnerability, please contact our team immediately. We take all security issues very seriously and will work quickly to address any problems. To email us with a vulnerability or other security questions, send an email to [email protected]
Let's Get started
Start your 30-day free trial
Full access to a library of unique Web Parts and tools.
Free 30-day trial

No credit card needed

Business hours support